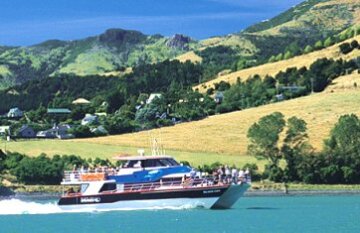 If you are self driving - collect your rental car
We have an extensive range of late model cars and 4WD vehicles from the top suppliers. See the range here or chat with your consultant about special needs or requests.
GPS navigation
Navigating New Zealand can be done easily in two ways. If you have a smartphone, you will be able to connect it to the USB of your rental car and your maps and other apps will display on the screen in the centre console of your vehicle, with the sound coming through the car speakers.
If you don't have a smartphone, chat to us to ensure we book you a car with a portal GPS system. Your portable GPS features a simple touch screen interface, with automatic route calculation and turn-by-turn voice-prompted directions, which announces street names. The automotive-grade GPS unit is easy to use and has multiple language options.
Christchurch to Akaroa
The Banks Peninsula offers a great contrast to the South Island's largest city. Just around a 1 1/2 hours drive from the city centre are rolling green hills, streams, golden sand beaches and small settlements that offer a unique insight into New Zealand's history and development.
Just on the other side of the Port Hills is Lyttelton, a busy port town that was crucial to the development of Christchurch and the Canterbury Plains. Following the road around the beautiful natural harbour the names, such as Magazine Bay, Battery Point, Corsair Point and Governers Bay, remind of the importance the navy placed on this harbour.
The Banks Peninsula itself is actually the remains of a long extinct volcano, the rim of which collapsed some time ago allowing the sea to flood into and create what is now the Akaroa Harbour. In 1840 French colonists settled in Akaroa in a bid to stake a claim for the South Island. Unbeknown the British had already declared sovereignty and a long drawn out dispute ensued with the British eventually being given government. However the French stayed and made this stunning part of the South Pacific their home and still to this day the town boasts French street names and every year a French Festival is held.
The Harbour itself is teeming with wildlife and a nature cruise is a must do activity. One of the world's smallest and rarest dolphins, hectors dolphin, are often seen and cruises also offer excursions with the chance to swim amongst them.
Akaroa Harbour Nature Cruise
Experience majestic scenery and stunning wildlife daily on a Black Cat Akaroa Harbour Nature Cruise. You'll see the rare, native dolphin – the Hector's or New Zealand Dolphin. There's also the chance to spot the world's smallest penguin, the White Flippered Little Blue Penguin, Fur Seals and other sea birds.
Other cruise highlights are some majestic volcanic cliffs (including the impressive Cathedral Cave) and signs of Akaroa's fascinating past including early Maori, French and British settlements.